Tuff Punt News
(For More Information Contact Rob Ammerer on 0427552553)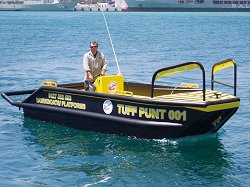 RA MARINE SOLUTIONS :
Company and vessel update.
Tuff Punt 001 has now completed two separate successful charters, this vessel has had towing bollards addeed to her hull to accomidate operations and her engine upgraded to a Suzuki 4 stroke 90 hp outboard to give her plenty of push pull power. She is availible for long or term charter and availible immediately.
Tuff Punt 002 has been secured by SKM and is stationed at Finucane Island up at Port Hedland for ongoing water monitoring work. She has been fitted out with a Yamaha 4 stroke 60 hp outboard, sun shade bibny cover, divers ladder and echo sounder to meet our clients needs and is commited to a 12 month contract.
Tuff Punt 003 has just completed Oil Respone training with over 50 representitives from around Australia. This vessel was placed on charter by Port Hedland Port Authority and proved very successful in assisting them throughout their week of training. She is fitted with dual Yamaha 4 stroke 40 hp outboards and a central towing bollard. Tuff Punt 003 is currently being demobilised from Port Hedland and is also availible for immediate long or short tem charter.